REFLECTIONS OF MY OWN EXPERIENCES
Since the Romantism, when landscape painting gained full strength and emancipated itself as a distinct genre in the fine arts, the representation of the landscape has evolved steadily and became a central subject matter of photography since its very birth. Now, immersed in the revolution dictated by the digital era, landscape photography has never found so many practitioners. In the so called social networks, such as Instagram, for instance, one may find him or herself completely absorbed by an abundance of landscape photographs, some strong enough not only to illustrate us the very beauty of the planet we live in but also to stimulate us to reflect upon its need for care and conservation.
Some of the fine landscape photographs we find out there are not merely the result of a good combination of mastered technique and standing in proper place and time at location. Their achievement may also have strongly to do with the restlessness of the photographer in his or her quest to answer inner questions about the meaning of the landscape for him or herself, and also to assess the significance, relevance or even possibility to extract its quintessential attributes from a medium – photography – that overly simplifies the true human experience before nature.
Recently, I watched an interview with master photographer Joe Cornish as he spoke about the need of self-reliance that sometimes landscape photographers must resort on when in search for such answers. He mentioned one trip to Scotland, when he became completely alone "in bleak Winter conditions, never seeing a soul". He advances by stating that "you learn a self-reliance that's quite significant in the way that it defines you as a person". Reflecting upon the sort of blessing that it is living in a country where health and safety culture is guaranteed, using his own words, and the fundamental need for people to stay safe and have respect for human life, he concludes that "in the creative life, we have to take risks", clear to me that he talks about risks taken under certain controlled parameters.
I instantly paused the interview (available on YouTube under youtu.be/fCHGajnsPGU) and started thinking of some adventures of my own in order to embrace landscape photography thoroughly, like he did in that journey. I recalled, in that moment, my visit to the great Mesquite Sand Dunes of Death Valley National Park (DVNP), located between the American states of California and Nevada, in 2015, just a magnificent and so geologically varied national park.
I had visited the dunes during midday under unpleasing lighting conditions in order to get the sense of the place and define how I'd approach the dunes next day at sunrise, which had been forecasted to be perfect. I was travelling alone this time, after leading a group of Brazilian photographers to the fabulous Yosemite and also King's Canyon and Sequoia NPs. DVNP and its vast and unique landscape was in my wishlist for a very long time, and so there I was, at location, ready for the adventure.
Waking up much before sunrise was by far the easiest part of this shoot. After I parked comfortably my car in front the dunes and shut the lights down, I could only experience darkness and solitude. I was expecting to see other landscape photographers in that location and time, but at that day, curiously, no one showed up and it was totally up to me to walk the dunes just by myself. Still in absolute darkness, I moved along many dunes with the help of my headlamp and an additional torch, up and down, seeking particularly for a very large dune I had visualized in the previous day. Climbing it was hard, still in the dark, every three steps up corresponding to just a real one step up, but at dawn I was there, up in the dune, with a great panoramic view of the whole landscape. Just checking again, I continued alone as much as I could see at distance, at least as far as other human beings were concerned. DVNP is known for being one of the driest places of the world, and desert creatures favor night behavior, when temperature is amenable and most species are active. Tracks of a coyote may be found alongside those of a jackrabbit, for example, in the morning. Therefore, I kept myself aware of the presence of such possible companionship, not to mention possible encounters with snakes.
Once my tripod was set-up, my initial guess was to use the topline of the dune as foreground interest, which would lead the eye directly to a blue sky beautifully filled with attractive clouds, and I must say that this composition particularly pleased me a lot later on (although it is not shown here). However, as the sun rose a little upper in the horizon and slowly penetrated the lower part of the dunes, the landscape texture was uniquely unveiled and I decided to change my initial approach and use a much longer lens in order to reveal subtleties of some sand dune formations far away from where I was standing. This is how "Sand dunes, sunrise, Death Valley", below, was created.
In search for moments like this, a considerable amount of compositional opportunities is available for the photographer, and that sunrise was especially very productive for me, both photographically speaking and, more important, to my self-reliance. But in order to make photographs of moments like this that will endure the test of time and general audience appraisal, one must be able to reveal the landscape topology from an originally intricate natural scene, one great job we landscape photographers have to face repeatedly, especially considering places such as DVNP, and the Mesquite Sand Dunes complex, from where so much has already been documented and photographed. As French novelist Marcel Proust points out clearly, "the real voyage of discovering consists in not seeking new landscapes, but in having new eyes."I'd finalize this post just by adding that determination and endurance are also qualities that keep us moving and exploring both old and new landscapes, and that nothing is exhausted if it still exists.
Texto originalmente publicado em On Landscape, n. 153, 2018: https://www.onlandscape.co.uk/2018/02/self-reliance-solitude-landscape-photography/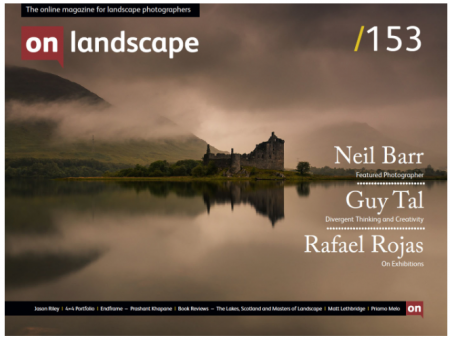 Related Images: